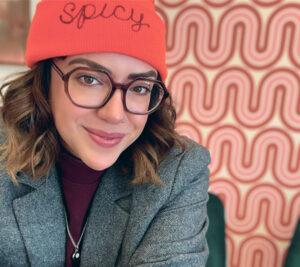 Caroline welcome Sara Calvarese, astro anarchist ally, sharing enthusos for: "The US' Pluto Return and the upcoming outer planet astrology (Pluto moving into Aquarius, Neptune moving into Aries, and Uranus moving into Gemini). And am always willing to have a good discussion about the 8th house."
"…a South Philadelphia based author, illustrator, astrologer, tarot reader, and owner of The 8th House, a brick and mortar retail space. She left her career in chemistry and engineering in 2020 to pursue full time creative work. Her projects to date include: The 8th House Tarot: An Astrological Tarot Deck, Prism Tarot, Mundane Magick Tarot, Stories: A Collaborative Oracle Deck, and Magick (IRL), an interactive tarot and astrology book."
(Re-connected by her anarchist publishing house pm press….Send me more occult anarchists!)
It turns out I did a reading for Sara, 7-ish years ago, so all jolly – re-connecting. She says,"You're probably the single biggest influencer of my astrology practice, so I have a lot to thank you for! Your work is always on my "recommended reading/listening" list for folks."
Yip-Yip!
Her Latest is "Turning Terrestrial Tides Tarot"
From PM Press – Sara Calvarese: "We're in turbulent times. The US is experiencing its first Pluto Return, and Uranus, Neptune, and Pluto are all set to move into new zodiac signs in the near future. The astrology suggests that we're collectively standing on the precipice of a major shift here on Earth." So, how do we use this astrological energy of change to our advantage? The 78 tarot archetypes invite us to self-reflect and entertain curiosity around designing our future within our larger communities. During these times of intense transformation, tarot can act as both a mirror and an anchor for personal empowerment, reminding us that we write our tomorrow. This DIY quality is reflected in the Turning Terrestrial Tides Tarot artwork. The travel-friendly, poker-sized deck was created in the approachable cut-and-paste collage style of 90s zines and includes the astrological linkages to each tarot archetype as well as words to reflect on, both on the cards and within the included mini guidebook.
Listen & Download
"Astro·Anarchy & Tarot"

Support The Visionary Activist Show on Patreon for weekly Chart & Astro*Mytho Themes ($4/month) and more serious whimsy…