The Only News to Trust is the Mythic News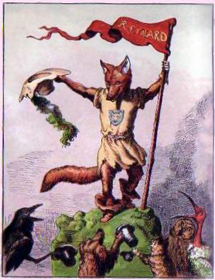 Each week in innumerable venues, Caroline animates the astro*mytho*politico guiding meta-narrative.
How we can perceive the mythic themes at work in what passes for "news," that we may be ever more effective players on the Team of Creation, and skookum for the Wild Ride of now.
On Monday nights Caroline convenes Trickster Training Council, an on-going gathering, into which all are welcome to jump for a season.
and of course, customized divination, astrological readings with Caroline.
Next Upcoming Events
Something is always brewing backstage. Check back soon to discover what it is.
The Visionary Activist Radio Show
Caroline's Visionary Activist Radio Show is a constantly evolving experiment in Radio Magic. Her show provides the Mythological News, the Themes of Now, and has as guests anyone with a piece of the puzzle for Dreaming, Conjuring and Implementing a more lovingly ingenious world.

Listen to the most recent broadcast:
Date Posted: July 12, 2018
Let us be guardians of collective well-being & protectors of protectors.
Dark O Moon-Eclipse in Big Mama's sign of Cancer*Radio:
Caroline welcomes Carolyn Raffensperger, among the very best effective advocates for Big Mama, composting the #waronlife into nutrient for Public Trust Doctrine (government as protector of common wealth); an environmental lawyer and the executive director of the Science & Environmental Health Network; as well as being a leading expert on the Precautionary Principle (Sane Reverent Common Sense).
Science and Environmental Health Network: http://sehn.org/
Visionary Science, Ethics, Law and Action in the Public Interest
Listen & Download     *apologies for slightly scratchy phone connection* 
"Guardians of Collective Well-Being"

Support The Visionary Activist Show on Patreon for weekly Chart & Astro*Mytho Themes ($4/month) and more serious whimsy…
Audio Recordings of Past Events
Trickster Training

Solstice Council

To re-re-re affirm that

Kinned Beauty is

Stronger than tyranny!

Caroline weaves the Astro*Mytho*Politico

Themes of Now, and Guiding Meta*Narrative Strategy

to Spiral out of Polarity and into Accord.

Purchase the Audio &

PDF of Chart and Themes:

 

If you encounter any difficulties opening the download/zip file, please contact us.

Recorded Live in Group Council on

Monday June 25th

1.5 Hour Live Virtual Event with Caroline W. Casey