The Only News to Trust is the Mythic News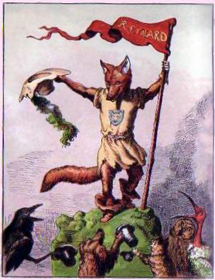 Each week in innumerable venues, Caroline animates the astro*mytho*politico guiding meta-narrative.
How we can perceive the mythic themes at work in what passes for "news," that we may be ever more effective players on the Team of Creation, and skookum for the Wild Ride of now.
On Monday nights Caroline convenes Trickster Training Council, an on-going gathering, into which all are welcome to jump for a season.
and of course, customized divination, astrological readings with Caroline.
Next Upcoming Events
Something is always brewing backstage. Check back soon to discover what it is.
The Visionary Activist Radio Show
Caroline's Visionary Activist Radio Show is a constantly evolving experiment in Radio Magic. Her show provides the Mythological News, the Themes of Now, and has as guests anyone with a piece of the puzzle for Dreaming, Conjuring and Implementing a more lovingly ingenious world.

Listen to the most recent broadcast:
Date Posted: January 14, 2021
Caroline welcomes the return of Eyak Native, and mega-effective advocate for Mother Ocean, Dune Lankard, with collaborative ally Bren Smith, executive director of Green Wave.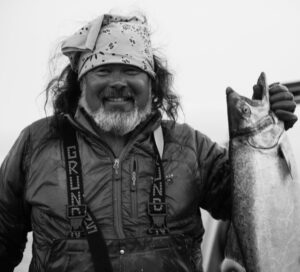 Dune Lankard, Founder, President & Executive Director of Native Conservancy An Eyak Athabaskan Native of the Eagle Clan, Dune grew up in Cordova, in southcentral Alaska. Born into a fishing family, his life education as a subsistence and commercial fisherman began at age five. He later earned a living as a fishery and processing consultant and commercial fisherman in the Copper River Delta and Prince William Sound. The Exxon Valdez oil spill transformed him into a social change leader. He had founded/co-founded several key organizations, including the Eyak Preservation Council and the Native Conservancy (land trust). His tireless strategies won the preservation of more than 1 million acres of wild salmon habitat in the Exxon spill zone and wide recognition, including Time magazine's Top 50 Heroes for the Planet; and fellowships with the Ashoka, Future of Fish and a Prime Movers Award. Dune is now venturing into kelp and mariculture farming in Prince William Sound for restoration and regenerative purposes and for building resiliency for our oceans and coastal communities.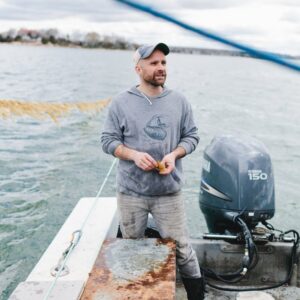 Bren Smith, Co-Executive Director and Co-Founder of GreenWave Bren Smith, GreenWave co-executive director and owner of Thimble Island Ocean Farm, pioneered the development of regenerative ocean farming. A lifelong commercial fisherman, he was named one of Rolling Stone magazine's "25 People Shaping the Future" and featured in TIME magazine's "Best Inventions of 2017". Bren is the winner of the Buckminster Fuller Prize and has been profiled by 60 Minutes, CNN, The New Yorker, Wall Street Journal, National Geographic, and elsewhere. He is an Ashoka, Castanea, and Echoing Green Climate Fellow and James Beard Award-winning author of Eat Like a Fish: My Adventures Farming the Ocean to Fight Climate Change.
Listen & Download
"Regenerative Ocean Farming"

Support The Visionary Activist Show on Patreon for weekly Chart & Astro*Mytho Themes ($4/month) and more serious whimsy…
Audio Recordings of Past Events
Deborah Felmeth

(Songstress, cross-pollinating story-weaver betwixt Syria and Vermont)

and Caroline Casey

re-convene to weave the story of now

for

Deja Vudoo Halloween

partnering with Flora Fauna

to animate the metaphors eager to co-operate

October 31st
5 pm PT/ 8 pm ET

audio only by web or phone
(cause the invisible is magic)

Replay: $23

Equinox Eve Council 

September 21st, 2020


Replay