The Only News to Trust is the Mythic News
Each week Caroline animates the astro*mytho*politico guiding meta-narrative. She offers how we can perceive the mythic themes at work in what passes for "news," that we may be ever more effective players on the Team of Creation, and skookum for the Wild Ride of now.
*On Monday nights Caroline convenes Trickster Training Council, an on-going gathering, into which all are welcome to jump for a season.
*On Thursdays she hosts the The Visionary Activist Show, a weekly live radio show dedicated to allying with nature's guiding principles and any humans with a piece of the puzzle for Dreaming, Conjuring and Implementing a more lovingly ingenious world.
*On Wednesdays and Fridays,° Caroline is available for customized divination, Astrological Readings, whereby to "Dree Your Weird" (aka "Play Your Role in Destiny").
° Please note Caroline is typically booked 2-3 months into the future for Readings.
*Always available for language crafting (micro-personal & macro-cultural participation) - that our words, stories, metaphors be in accord with our dedicated hearts. Contact us to inquire about booking a virtual or in-person event.

Next Upcoming Events
Something is always brewing backstage. Check back soon to discover what it is.
The Visionary Activist Radio Show
Caroline's Visionary Activist Radio Show is a constantly evolving experiment in Radio Magic. Her show provides the Mythological News, the Themes of Now, and has as guests anyone with a piece of the puzzle for Dreaming, Conjuring and Implementing a more lovingly ingenious world.

Listen to the most recent broadcast:
Date Posted: January 26, 2023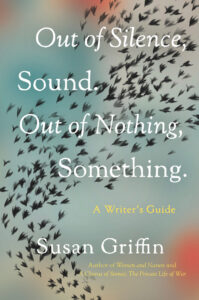 Caroline hosts fellow Council of Unreasonable Women, alumna
Susan Griffin, "radical feminist philosopher, essayist, novelist and playwright particularly known for her innovative, hybrid-form ecofeminist works."
on her 80th birthday!
Honoring her latest book "Out of Silence, Sound.
Out of Nothing, Something.
(A Writers Guide)"
in which she be embodied encouraging, soothing, rousing fierce gentle Mentor
of writing craft, to all of us who seek to gather our wits… our wonder and focus, whereby to cultivate and contribute our gifts.
www.counterpointpress.com/books/out-of-silence-sound-out-of-nothing-something
Listen & Download
"Out of Silence, Sound"

Support The Visionary Activist Show on Patreon for weekly Chart & Astro*Mytho Themes ($4/month) and more serious whimsy…
Audio Recordings of Past Events
 

The year of woofy women drawing to a close – the era of Woofy Women unfurling.

Winter Solstice Magic Replay

 

with 3 Woofy Women

Caroline W Casey
Astro*Mytho*Politico Guiding Story
&
Amikaeyla Gaston & Carolyn Brandy
Drumming & Calling in what we need to make it happen.

Recorded live via Zoom on December 21st, 2022 at 8pm eastern / 5pm pacific 

 

Replay (both Video & Audio)

Open to donation by generous intuitive whim

*After sending your contribution through Paypal, please keep the window open.

*Wait 15-30 seconds – you will be sent directly to the Event Page.

Please contact Eryn@coyotenetworknews.com if this process does not work or if you have questions. Woof!

"Time is motion. Stillness is Eternity. " The Solstice is their dance.

Let's Step into the still point, be available to Mystery, call in our Woof for the adventure ahead…

 

Election Eve · True-Halloween Council

 

with Caroline Casey, astro*politico*mytho navigational narrative

and Election Magic colleague, Patricia Ewing,

and jaunty songs, whereby to diaspora with dynamic serenity, proffered by Deborah Felmeth

 

Recorded Live on Monday, November 7th, 2022 · 9 pm et / 6 pm pt

(exact mid-season-Gate of Power)

 

Audio Recording Available by Donation

5's, 2' or 3's are fun… $23, $5… $5,000… up to intuitive whim

 

"*" indicates required fields

 

After contribution is complete, please wait ~15 seconds & let the next page load, it will guide you automatically to the Replay page

If you experience any difficulties with accessing the replay page, please email Eryn@coyotenetworknews.com