Saturday, April 15, 2023
2:00 pm - 4:00 pm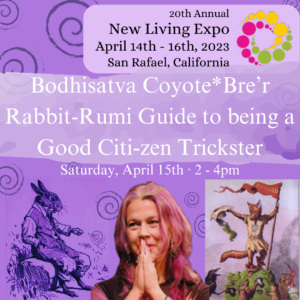 Caroline Casey presents
Bodhisatva Coyote*Bre'r Rabbit-Rumi Guide to being a good Citi-zen Trickster
2 hour Event on Saturday, April 15th from 2pm – 4pm
at the 20th Annual New Living Expo in San Rafael, California
Caroline's event will be located in the Embassy Suites across the street from the Marin Center

Nature's evolutionary Genius (aka Uranus) is eager to cahoot for necessary miracles,
willing to be our booking agent, via serendipitous synchronicity….
All Coyote wants to seal the deal is our declaration of available willingness…
So let's do this together.
"We are willing and available to Mystery!"
Our convening chart abounds with quintiles, 72 degree angles
The question be not, "What's gonna happen?"
but…"What is available with which to cooperate."
The astro*mytho*politico narrative answers that question.
"Co-operators are standing by!"
The more words, metaphors, stories – the more ways to participate…
To and fro language and metaphor crafting…
Note: attendees should buy both a General Admission ticket & a "Special Events / Workshops" ticket 

Caroline's event is listed as "Caroline Casey 2 hour Special Event" – there are both standard and VIP tickets available
Click here for full event details
---
Thursday, April 6, 2023
9:00 pm - 10:30 pm


Thursday, April 6th, at 9:00pm 
in person!
Freight & Salvage
(2020 Addison St, Berkeley, CA)
Free and Open to the Public – Holy Moly!
Caroline Casey Presents
Majnoun! Trickster's Guide to Necessary Miracles
whereby we convene the Renaissance Council to banish crack-pot tyranny to the Underworld, to learn knitting and weaving, as the gods sentenced Hercules when he was sundering the fabric of creation.
Pluto, just arrived in Communitarian Aquarius, guides us to constellate the Community of Reverent Ingenuity. Symbiotic Mutualism!
"Who are the fittest: those who are continually at war with each other, or those who support one another? We at once see that those animals which acquire habits of mutual aid are undoubtedly the fittest." -Peter Kropotkin
Click here for full event details
---