Friday, November 8, 2019 - Saturday, November 16, 2019
All Day
Banjar Bayad Tegallalang
Pragmatic Mysticism
&
Applied Divination
Astrology as a living guide to being ever better players on the Team of Creation
View Details & Register on Heaven and Earth Workshops Website
Join
Visionary Activist Astrologer Caroline Casey
&
Quantum Astrologer Rick Levine
for
An 8-Day immersion in Beautiful Bali, Indonesia
at fabulous Rahasia Manis
November 8 -16, 2019
You are invited to a dance on the edge of time.
Caroline Casey and Rick Levine are collaborating to convene a week-long astro-mythic council in which to cultivate, animate and spiral forth our considerable gifts at this time of Dire Beauty. Rick and Caroline will teach the astrological language, brought alive with folk tale, spiritual teachings and practices, myth, metaphor, insights from modern psychology, and ancient Mystery Schools.
Astrology is one of the great guiding languages of our interior psyche and its connection, through a thin membrane, to the collective pulse. To avert disaster (against the stars), we gather to consider (with the stars.)
The natal charts of participants will be used as a point of departure for this cosmic adventure as Rick and Caroline hand the teaching baton back and forth while fully participating in the co-creation of magic.
Click here for full event details
---
Friday, October 18, 2019
9:00 pm - 10:30 pm
San Rafael CA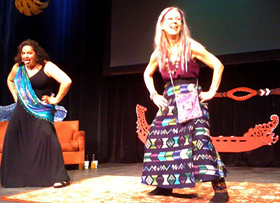 Caroline will be presenting the Astro*Mytho story, comme d'habitude, at Bioneers 
Friday, October 18th, 2019 at 9pm 
at the Marin Conference Center
You often do not need to buy tickets to Bioneers to see Caroline's Friday night keynote council, but in case you would like to … registration is now open! 
See Bioneers for more info: http://conference.bioneers.org/
Click here for full event details
---
Friday, August 30, 2019 - Tuesday, September 3, 2019
All Day
Baltimore Maryland

NCGR Conference 2019
All Roads Lead to Baltimore
August 30th, 2019 – September 3rd, 2019
Caroline will be presenting 
Liberating Ritual Magic, Pragmatic Mysticism, Applied Divination
Mercury, Sun, Mars, Venus in Virgo trining Uranus in Taurus=Biomimicry:that humans may humbly cooperate with Nature's guiding Genius (aka "Trickster)=Democratic Animism= to tease what we know into pertinence to protect as much life as possible. We shall be cultivating metaphoric agility whereby to Conjure Calliope out of the Cauldron of Calamity.
Sunday 4:15pm – 5:30pm
Click here for full event details
---