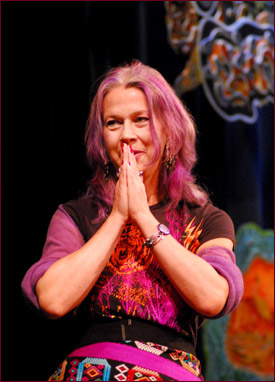 Caroline W. Casey is the host-creator, weaver of context for "The Visionary Activist Show" on Pacifica Radio Network  Pacifica station KPFA (94.1) in Northern California , replayed on L.A.s KPFK (and can be heard live on the web: www.KPFA.org at 2pm PT on Thursdays, and by pod-cast subscription.)
The first show aired out of DC on September 5, 1996, when she hosted the late ally James Hillman, conversing on their shared dedication of restoring mythological literacy to culture.
The Show is dedicated to: anything we need to know to have a democracy; critique and solution; and the acknowledgement that we humans cannot solve the innumerable rude crises we've imposed on our planetary kin – by ourselves.  It's "by ourselves" that got us into this pickle. Let a willingness to cooperate with everything emerge from the smoldering ruins of dominance. Hence Democratic Animism.  Her guests  are leading contributors to a culture of reverent ingenuity, all teased into pertinence., and has been called "one of the best radio shows in America."
 

Her unique art of Astro* mythological*political* guiding *meta-story-telling is presented in myriad multi-media venues.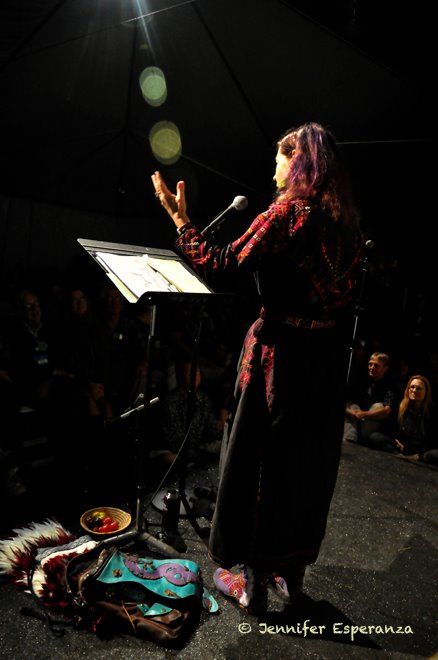 She began studying astrology as a late teen, where she was the kid who got to hang out at a salon presided over by Dr. Andrew Weil, comprised of way cool intellectual political mystics, reading anything the Whole Earth Catalogue recommended including Carl Jung and Joseph Campbell, with whom she studied Grail legend and Animal Myths in later years.
Dedicating to astrology as one of the great meta-languages of antiquity, uniting everything of consequence: personal and collective change, ritual magic, esoteric philosophy, Quabbalah, she went on to study at the Astrological Lodge on Baker street in London, traveling though India, returning to Brown University, where she read long 18th and 19th century novels, and studied everything useful to astrology: The Grail Legend, Comparative Religion, Sufism, Voudoun, Oriental Theatre, Middle Eastern Dance, Film, Writing – all contributing to a degree in Semiotics.
During which time she lived at the Providence Zen Center, earning a Brown Belt in Shim Gum Do, Korean sword(wo)man-ship.
And studying with the late astrologer Isabel Hickey in Boston.
She continues her studies of  magic, mythology, literature and social activism all over the world.
She began her astrological consulting practice while at Brown in 1976, continuing to this day where she does readings both in person and on the phone and skype to people truly all over the world.
Note: Elves are working back-stage to bring the full 16 years of show archives  into availability, to include "Best of's" (solo shows, Bio-mimicry, integrative medicine, entheogenic sacraments, political investigative reporters, Medicine Men and Women, indigenuity, New Orleans mojo, renewable energy, local economy, writers of Buddhist Noire, esoteric thrillers, and poetry.)
A native of Washington DC, Caroline is the last of five children ( a cool fairy tale position) born to an Irish-Democrat-New-Deal Congressman, and a politically active Yankee Swede. She rode on her Dad's shoulders to Kennedy's snowy Inauguration, and held his hand in speaker of the House McCormicks office at Kennedy's funeral.
As a young girl she attended the Poor People's March on Washigton, and as a teen, while attending Hawthorne ( a progressive Summerhill-like hippie High School) she was a Mobe Marshall and ardent anti-war and social justice activist.
Primary astrological consultant for Time-Life Books' 1989 book "Cosmic Connections", she has offered mythological-astrological news analysis on ABC"s "Nightline", CNN's "Crossfire", in "People Magazine ", on Public Radio, the Mutual Broadcasting System, CBS's "Nightwatch", "Fox Morning News", "Equal Time" etc.
In 1980 Caroline was a weekly astrological political analyst on Washington Metromedia TV, with Mark Shields. Subsequently her Astrological Interpretation of World News and Politics has been sought in full-page interviews in The Washington Post, a full length cover feature also in the Post's style section (July 2000), on the front page of the Providence Journal, the New Bedford Standard Times, the London Sunday Times, the San Francisco Examiner, and in an interview with James Ridgeway for the Village Voice. She has written astrological-political essays for Washingtonian magazine as well as an astrological-political column for George Magazine (July '98-February '99). And covered the 2000 election for National Journal's Hotline.
Her audio book,Visionary Activist Astrology is published by Sounds True. She is the author of Making the Gods Work For You – the astrological language of the psyche (Harmony Books/Random House or Random Harmony) The audio version, a theatrical presentation of the material in the book, is also titled Making the Gods Work for You.
She offers Trickster Training Council weekly tele-class as well as councils at a wide variety of conferences all over America as well as in South Africa (presenting at the Parliament of World Religions), Bali, Sweden, UK, New Zealand, Hawaii, the Caribbean, British Columbia, and (soon) Tasmania and Serbia. A rousing and frequent keynote speaker, offering the Mythic News at the Bioneers Conference,(for over a decade), Green Festivals, New Living Expo etc. and with the great poet-ally Robert Bly for over 11 years at his Great Mother Conference. Caroline invites us to imagine, conjure, and implement a more lovingly ingenious world.
Contact us here for bookings: astrological consultations for individuals, companies, non-profits, whereby to lay strategy to fully animate intrinsic potential; Trickster Training Councils, Talks, Key-note addresses.