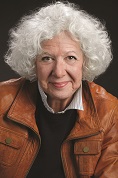 Waxing Buddha's Moon of Animistic Vitality, Neptune stationing, that metaphor be eager to serve as incarnational invitation. (Therefore) Caroline welcomes the return of ally Belleruth Naparstek, guided Visualization maven, that we may explore the power of imagery in our micro body, and macro body politic…"Liz Warren has a plan for that!" Malaise, societal or personal?  "Belleruth has an app for that!"
Psychotherapist, author and guided imagery pioneer Belleruth Naparstek is the creator of the popular Health Journeys guided imagery audio series. Her latest book on imagery and post-traumatic stress, Invisible Heroes: Survivors of Trauma and How They Heal (Bantam Dell), won the Spirituality & Health Top 50 Books Award.
Guided imagery pioneer Belleruth Naparstek is the creator of over 80 guided imagery audio programs targeted to address a variety of health and mental health concerns. She is the founder of Health Journeys Inc, a leading producer and distributor of mind-body programs that deliver direct self-help healing and wellness experiences (meditation, imagery, hypnosis, relaxation, acupressure and yoga), at the screen or on a listening device.
Listen & Download
"Visualizations of Vitality"

Support The Visionary Activist Show on Patreon for weekly Chart & Astro*Mytho Themes ($4/month) and more serious whimsy…