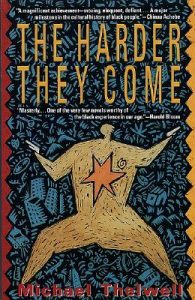 The darker the lyrics – the jauntier the tune – the Genius of Jamaica
Astro*politico debriefing: to triumph over chicanery, This Fund Drive, Caroline is offering 2 of her favorite novels, The Harder They Come, by Michael Thelwell (barely 20 copies available in world, and we have them! as pledge enticements.) In this potent, pertinent novel, the dialogue is written in Jamaican patois, so as we read, we can hear the melodic, ironic poetry of the Jamaican language in our heads. "oppreshun be only fur a seasun."
We are also offering 1 copy of "Power Game" by Perry Henzell – that comes with a debriefing phone call with me, Caroline, upon return from Jamaica! Delineates the kind of team one needs to pull of a Revolution. Practical. And fun!
(We are also offering 3 months of Trickster Training Council. It all brews together. We want to get us all fluffed up to deftly dance with danger, to liberate all polarity into a spiral)
Michael Thelwell, Born in Jamaica, the author of The Harder They Come, was the founding chairman of the W.E.B. DuBois Department of Afro-American Studies at the University of Massachusetts at Amherst, where he continues to teach. He has published a number of works, including two noted collections of essays, Duties, Pleasures, and Conflicts: Essays in Struggle and Hopes and Impediments. He is currently working on a biography of the former Black Panther leader Stokely Carmichael, now known as Kwame Ture.
https://www.thenation.com/article/archive/h-rap-brownjamil-al-amin-profoundly-american-story/
Perry Henzel – Jamaican film-maker Perry Henzell was one of the most noteworthy figures of Caribbean cinema. His masterpiece, The Harder They Come (1972), starring the reggae singer Jimmy Cliff, remains the most outstanding film to emerge from the region and has continually served as a reference point for film-makers in the Caribbean and Latin America. It brought the sights and sounds of Jamaica to overseas audiences for the first time; in particular, it made plain the jarring reality of the Kingston slums and gave some indication of the Rastafari way of life, sparking an interest for many in the island's culture."
https://www.theguardian.com/news/2006/dec/04/guardianobituaries.obituaries1
Listen & Download
"The Genius of Jamaica"

Support The Visionary Activist Show on Patreon for weekly Chart & Astro*Mytho Themes ($4/month) and more serious whimsy…