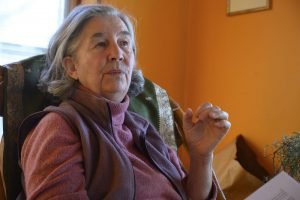 Radio Magic for the Forests, Caroline welcomes the return of Diana Beresford-Kroeger,
Who says Radio holds the ear, and fires the imagination… So we light our collaborative kinship fires, to quell the fires…
Speaker for the Trees, Botanist, medical biochemist and author Dr. Diana Beresford-Kroeger possesses a unique combination of western scientific training and an understanding of the knowledge and methods of a wide variety of traditional and alternative sources. Her books include The Sweetness of a Simple Life, The Global Forest, Arboretum Borealis: A Lifeline of the Planet, Arboretum America: A Philosophy of the Forest, and A Garden for Life. A feature documentary about her work, the Canadian Screen Awards-nominated Call of the Forest: The Forgotten Wisdom of Trees, appeared in 2017. Her latest book is To Speak for the Trees: My Life's Journey From Ancient Celtic Wisdom To a Healing Vision of the Forest.
Listen & Download
"Radio Magic for the Forests"

Support The Visionary Activist Show on Patreon for weekly Chart & Astro*Mytho Themes ($4/month) and more serious whimsy…