Caroline hosts Marianne Williamson: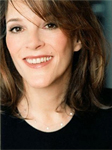 "These are very serious times, and serious people need to be doing some serious thinking. The last thing we should do is allow ourselves to be infantalized by a counterfeit version of enlightenment. No true search for enlightenment ignores the suffering of other sentient beings. Ever."
Note from "Web Wuf:" this show is now part one of two. It was such an effective medicine mojo they were brewing, that was continued the following week as Part 2.