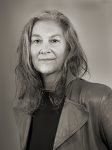 Caroline's astro*mytho cultural high jinx dance partner is long-time ally Linda Wolf. Inviting Positive Yang to dance with spicy sorceress Positive Yin, at this Time of Dire Beauty, diagnosing the horror, while magnetizing the desirable…
Wolf is the founder and executive director of Teen Talking Circles (becoming Circle of Truth) and through TTC is a pioneer of reviving much needed old traditions in a new modern vernacular. In 2006, through Teen Talking Circles, she became the recipient of a seven-year AnJeL Fund Grant from the Rudolph Steiner Foundation. She will be a guest this New Moon Monday in our Trickster Training Council (subscriptions to which we are offering in Fund Drive) (www.trickstertraining.com).
Wolf has authored four books featuring her photography: Joe Cocker Mad Dogs & Englishmen Memory Book; Daughters of the Moon, Sisters of the Sun: Young Women and Mentors on the Transition to Womanhood; Global Uprising: Confronting the Tyrannies of the 21st Century; Stories from a New Generation of Activists; and Speaking and Listening From the Heart, The Art of Facilitating Teen Talking Circles and a documentary, I am a Full Woman, of women around the world.
Listen & Download
https://coyotenetworknews.com/wp-content/uploads/2018/10/20181004-Thu1400-edit-Maintaining-Jauntiness-while-heading-into-the-Dark-with-guest-Linda-Wolf-v192.mp3
(Note: the beginning of this audio file has been edited down to cut out tech kerfuffles)

To Download, Click on this Link and then the ··· for Download option
"Maintaining Jauntiness while heading into the Dark"