Our first guest Mark Bryan, a visual satirical genius: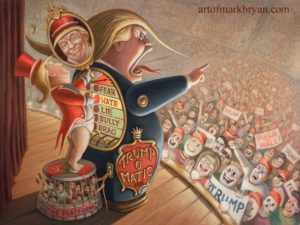 "Raised in the middle class suburbs of Los Angeles County during the 1950s and 60s, Bryan was immersed in the popular culture of that time and place. Low budget Sci-Fi and horror movies, Super hero comic books, Mad Magazine, surrealist art and later the psychedelic work of Zap Comix artists such as Robert Crumb and Robert Williams were all part of the esthetic and psychological mix surrounding him. These influences combined with significant political events (which included The Red Scare, Civil Rights Movement and the Vietnam War) shaped and promoted an early political awareness and continues to affect the style and content of his work"
*******
2nd segment guests will be Carol Hoover and Dune Lankard (in Alaska), Executive Directors of the Eyak Preservation Council
www.eyakpreservationcouncil.org 
Where Wild Salmon Rule
 to honor their dedication resulting in these heartening victories:
"An entire watershed is valued as priceless and now is forever protected from unwarranted development, keeping fossil fuels in the ground, eliminating carbon emissions in a region where we can still drink from our rivers, have clean air to breathe, and where we still have some of the tallest coastal glacier capped mountains in the world."
"This is a precedent-setting carbon conservation accomplishment that is monumental for numerous reasons," said Dune Lankard, one of the founders of the Native Conservancy Land Trust and the founder of the Eyak Preservation Council. "Preserving the Bering River and Carbon Mountain watersheds not only addresses climate change in a real way, but also protects the ancestral homelands of the Chugach shareholders and maintains our vibrant subsistence and commercial fishing way of life," Lankard said in an interview with The Cordova Times on Jan. 24.
"I am proud of Chugach Alaska Corp. for doing their part as Alaska Native Claim Settlement Act stewards in protecting the Copper River Delta. What a lot of people don't realize is that the Chugach National Forest is still 98 percent roadless, and wild. The EPC and many, many Cordova residents, and fishermen, have worked tirelessly to keep it this way," Lankard said.
http://www.thecordovatimes.com/2017/01/25/bering-river-coal-field-rights-retired/
http://www.stamfordadvocate.com/news/article/Alaska-Natives-to-protect-land-for-California-10886443.php
Listen Here: