"It's time to take our fire fears and connect that with our water woes!" – Brock Dolman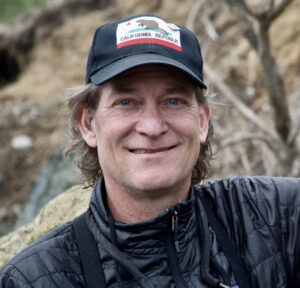 Caroline welcomes "Fluid Druid" Water Wizard Brock Dolman, for auspicious hydro cahooting: that we ally with Beavers.
To cooperate to cooperate, good for the whole Community the human relationships become more egalitarian…. Even our rogue species learns manners. Neptune, Mercury, exactly aligned (on Brock's Moon!)… So Water would like to speak with us… through its dedicated ally…
The California deluge… The Sky Rivers stalling…losing the capacity for undulating flow…
So, let's undulate….
To protect water become more like water… Tao Teh Ching
Brock Dolman co-founded (in 1994) the Occidental Arts and Ecology Center where he co-directs the WATER Institute. A wildlife biologist and watershed ecologist, he has been actively promoting "Bringing Back Beaver in California" since the early 2000s. He was given the Salmonid Restoration Federation's coveted Golden Pipe Award in 2012: "…for his leading role as a proponent of "working with beavers" to restore native habitat.
Listen & Download
"Hydro Cahooting · Cooperating with Water"

Support The Visionary Activist Show on Patreon for weekly Chart & Astro*Mytho Themes ($4/month) and more serious whimsy…
Brock contributing to Bioneers Conference:
Revitalizing the Biosphere by Protecting Animal Habitats and Species
April 6th | 3:00 pm to 4:15 pm
According to a recent World Wildlife Fund report, since 1970 we have lost, on average, roughly 70% of the global populations of mammals, birds, amphibians, reptiles and fish. Scientist activists working tirelessly to reverse this catastrophic trend share their strategies. With: Dave Phillips, co-founder of the Earth Island Institute and Director of its International Marine Mammal Project; Brock Dolman, Co-Director of the WATER Institute and Permaculture Design and Wildlands programs at the Occidental Arts and Ecology Center, and a leader in CA beaver reintroduction; Michelle Lute, Carnivore Conservation Director for Project Coyote. Moderated by Maureen Nandini Mitra, Editor of Earth Island Journal.
And find Caroline at Bioneers on Thursday, April 6th, at 9:00pm at Freight & Salvage (2020 Addison St, Berkeley, CA). Free and Open to the Public – Holy Moly! See more details