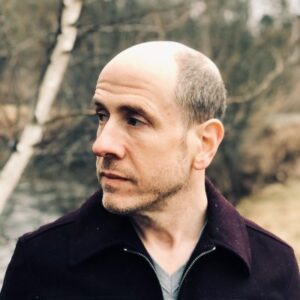 Caroline welcomes Jeff Sharlet, investigative culture doctor-journalist, author of The Family: The Secret Fundamentalism at the Heart of American Power, (and more)…
May danger serve as incentive to be good Citizen at this "time of Dire Beauty."
Jeff Sharlet is the nationally bestselling author of The Family (2008), described by Barbara Ehrenreich as "one of the most compelling and brilliantly researched exposes you'll ever read."His most recent book is This Brilliant Darkness: A Book of Strangers (2020). The Washington Post declared of Sweet Heaven When I Die (2011), "This book belongs in the tradition of long-form, narrative nonfiction best exemplified by Joan Didion, John McPhee [and] Norman Mailer… Sharlet deserves a place alongside such masters."  Excerpts from Sharlet's 2010 book, C Street received the Molly Ivins Prize, the Thomas Jefferson Award, the Outspoken Award, and the first and second place features prizes from the National Lesbian & Gay Journalists Association. In 2015 an article for GQ by Sharlet, "Inside the Iron Closet," received the National Magazine Award for Reporting. His greatest distinction remains Ann Coulter's designation of him as one of the stupidest journalists in America.
"Sharlet's interest in religion developed during childhood. Sharlet's mother was from a Pentecostal Christian background. His father is of secular Jewish background. Raised in an eclectic religious environment, attending various people's churches and temples, he has said that he gravitates to stories about people's beliefs as the most natural way to engage the world." https://en.wikipedia.org/wiki/Jeff_Sharlet_(writer)
Twitter: https://twitter.com/JeffSharlet
Listen & Download
"Good Trouble is Our Business"

Support The Visionary Activist Show on Patreon for weekly Chart & Astro*Mytho Themes ($4/month) and more serious whimsy…