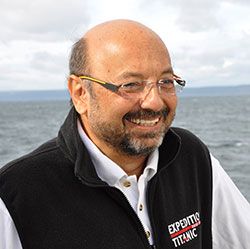 Powerfully pertinent re-play of the Visionary Activist Show from July 15, 2010,
at the beginning (of the on-going) Gulf of Mexico ecocide; hosting one of the very few deep deep Ocean scientists, Dave Gallo, from Woods Hole Oceanographic Institute.
He takes us on a tour of the Deep deep, the harm our rogue species has and is doing to the "symphony of life," and an informed clarion call for us to rejoin the Choreography of Creation. Full of amazing facts that we be informed agents of cooperating with the rhythm of life. Dave Gallo, great scientist, with the soul of a poet, as we will hear.
David Gallo is an American oceanographer and explorer. For nearly 30 years he was Director of Special Projects at the Woods Hole Oceanographic Institution – a preeminent, globally recognized scientific laboratory. Recently retired and independent he remains at the forefront of ocean exploration, participating in and being witness to the development of new technologies and scientific discoveries that shape our view of planet earth. David is a voice for the relationship between humanity and the sea, inviting us all to recognize that the oceans hold the clues to our past and the key to our future.
Listen & Download
"Diving Deep in the Symphony of Life"

Support The Visionary Activist Show on Patreon for weekly Chart & Astro*Mytho Themes ($4/month) and more serious whimsy…