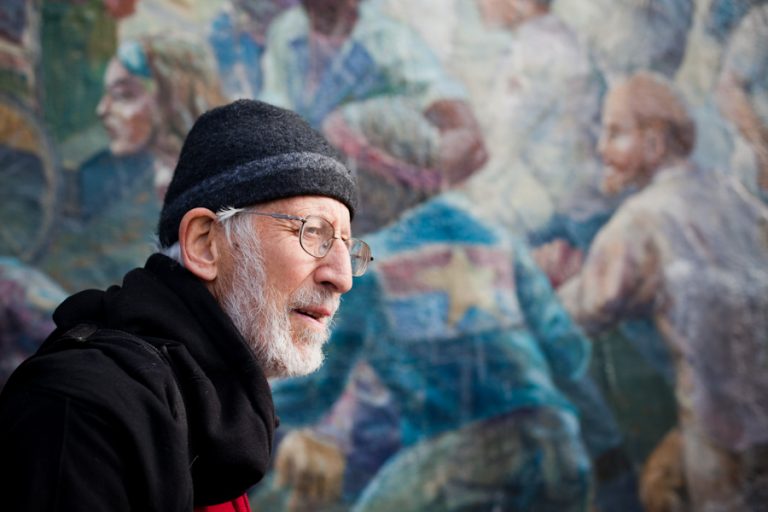 "Demand the impossible, defend People's Park!" A rousing exhortation, by  Osha Neumann, whom Caroline hosts this hour:
The tale of People's Park in Berkeley – 1969 to now… humming…in ardent pertinence to our plight…
Devastation into which flows Community Par; destruction makes its move again, again – the garden roots and bloom
and here we are. Honoring Parks as necessary for Community.
Invoking the impossible, all over the place,
May 1000 community parks bloom.
Osha Neumann was born in New York City. He attended Swarthmore and Yale, then moved to New York where he took up painting, and helped found an anarchist Street gang, the Motherfuckers. From New York he moved to New Mexico, Berkeley, and then to Black Bear, a rural commune in Northern California. Returning to Berkeley he began painting murals, among them A People's History of Telegraph Avenue, which has been named a Berkeley landmark. Since becoming  a lawyer  in 1987 and has represented, victims of police abuse, people arrested for committing civil disobedience, and the homeless. He continues to make art, collaborating with his son-in-law Jason DeAntonis in constructing larger than life size sculptures of found materials on an overgrown landfill in Albany California. He has remained politically active throughout his life, opposing wars, declared an undeclared, from Vietnam to Iraq, and supporting struggles against police brutality here at home, against apartheid in South Africa, and for the rights of Palestinians among other causes. His writing have appeared in Counterpunch, AlterNet, and various journals and newspapers.
Listen & Download
"Demand the impossible, defend People's Park!"

Support The Visionary Activist Show on Patreon for weekly Chart & Astro*Mytho Themes ($4/month) and more serious whimsy…