Caroline hosts Mary Greer, long-time, since 1971, divinatory ally, to honor her colleague, Rachel Pollack, whose book, The Beatrix Gate, we are proffering as a pledge incentive.
Mary K. Greer is one of the world's leading Tarot scholars and experts, famous by her Tarot blog. She is an author, teacher, and professional tarot consultant known for her innovative teaching techniques.
Rachel Pollack, Transgender Activist and Authority on Tarot, Dies at 77 (NY Times):
https://www.nytimes.com/2023/04/13/arts/rachel-pollack-dead.html
"Each card seemed a frozen moment in a story," Ms. Pollack wrote in a 2015 essay for the Tarosophy Tarot Association. "The cards originated as images, not doctrines or the set of meanings we attach to them. This allows them to pull together strands and possibilities, to create stories that are meaningful in people's lives."
In 1993, Ms. Pollack created DC Comics' first transgender hero: Kate Godwin, also known as Coagula.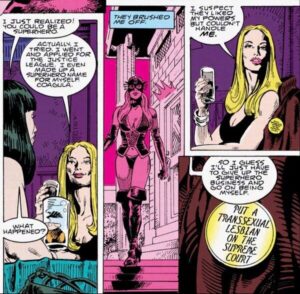 Credit…via DC Comics
"Kate Godwin, also known as Coagula, who could dissolve things with one hand and solidify them with the other."
Listen & Download
"Liberating Lightning"

Support The Visionary Activist Show on Patreon for weekly Chart & Astro*Mytho Themes ($4/month) and more serious whimsy…