Date(s):
15 Apr 2023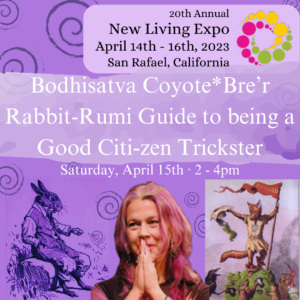 Caroline Casey presents
Bodhisatva Coyote*Bre'r Rabbit-Rumi Guide to being a good Citi-zen Trickster
2 hour Event on Saturday, April 15th from 2pm – 4pm
at the 20th Annual New Living Expo in San Rafael, California
Caroline's event will be located in the Embassy Suites across the street from the Marin Center
Note: attendees should buy both a General Admission ticket & a "Special Events / Workshops" ticket 

Caroline's event is listed as "Caroline Casey 2 hour Special Event" – there are both standard and VIP tickets available

VIP tickets / Preferred seating means your ticket seat will be in the first 5 rows

Nature's evolutionary Genius (aka Uranus) is eager to cahoot for necessary miracles,
willing to be our booking agent, via serendipitous synchronicity….
All Coyote wants to seal the deal is our declaration of available willingness…
So let's do this together.
"We are willing and available to Mystery!"
Our convening chart abounds with quintiles, 72 degree angles
The question be not, "What's gonna happen?"
but… "What is available with which to cooperate."
The astro*mytho*politico narrative answers that question.
"Co-operators are standing by!"
The more words, metaphors, stories – the more ways to participate…
To and fro language and metaphor crafting…