Date(s):
7 Mar 2023


High time for
Liberating Astrology!
honoring what be liberating in this language, and
liberating astrology from that which would tame it….
(hee-hee!)
5 week Council Cahoot Course
guided by the Chapters in "Making the Gods Work for You"
Tuesdays: March 7th – April 4th
6 pm et/ 3 pm pt (video council) (& recorded)
That we all come alive, with all of our skills,
to be participatory agents of Liberating Woof,
at this Time of Dire Beauty…
So for the

11 First Responders

,
I will immediately send you your hard-back-first edition
Making the Gods Work for You,
And a 40 minute astro convening with me…
to tease all into customized pertinence…
First group · 11 participants · All filled up!
We have room for more,
opening our doors to welcome this enthusiastic response
a physical copy of the Book is not included,
nor the 40 minute reading…
but plenty of welcoming woof…
We will make sure everyone gets the weekly chapter…
And all in the council will receive (for free)
the (new · in process now) E-book copy 
of Making the Gods Work for You
Join Liberating Astrology Council 
Council is in progress yip*yip! 

Stay tuned to our newsletter for future councils! Sign up here.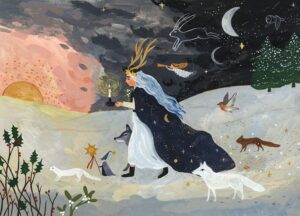 1. First Council March 7th – Full Moon in Pisces
& for bonus points Saturn moves into Pisces (not since 1994)

"The escape artist is in the Time-Keepers box."

We're really here now

introduction to Visionary Activist Astrology…

Think of our lives as a spiritual detective novel

and Saturn – the God of Cool,

in-sourcing our authority (and as we do this, we suck the chi out of tyranny.)
2. Second Council March 14th – Outer Planets
Outer Planets, aligning with the Change Gods,

the keepers of collective cultural and biological conversation..

Pluto – "Let go of control – so real power may enter the world"

Neptune- "The Dreams That Stuff is Made Of"

Uranus- "Becoming Sacred Clowns, agents of Liberating Trickster"
3. Third Council March 21st – Equinox & Jupiter
(Vernal Equinox day before –

New Moon in Aries today at beginning of Zodiac)

Jupiter "The World Belongs to the StoryTellers"
4. Fourth Council March 28th – Inner Planets
Mars "The Power of Fierce Compassion"

Venus "The Redemptive Power of Beauty"

Mercury "The Magician"

Moon "The Power of Memory To Create The Future"

Sun The Confluence of Allies
"Hail to the Sun God
He is a fun god
Ra Ra Ra!"
5. Fifth Council April 4th – Finalé
everyone, everything, everywhere all at once
And of course we shall be teasing all into participatory pertinence with unfurling world events…