Date(s):
17 Jul 2013 until 21 Jul 2013

Hollyhock
Manson's Landing
Cortes Island, B.C.
Let us be Terra-ists Re-Story-ing the World!
Trickster Training on Cortez Island, BC, Canada – July 17-21st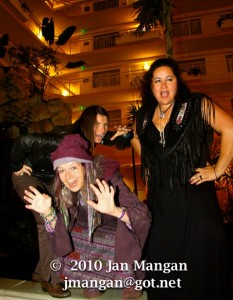 Trickster Medicine is the sine qua non, because it renders all other dedications effective.
Some seeds only bloom in Nature after cataclysm, by analogy, some parts of ourselves only come alive at a time of Dire Beauty. Now is that time.
Cultivating the magic of language, metaphoric agility and story:
We cultivate, animate, magnetize and spiral forth into the memosphere, the most irresistibly all inclusive guiding cultural meta-story…By assuming personal and cultural lead, by expanding our repertoire of responses rather than reactions, we ally ourselves with Nature's evolutionary Ingenuity. (aka, Trickster, Coyote, Raven, Sheherezade, Marie Laveau, High John the Conqueror and more!)
Metaphor is the incarnational garb whereby power enters the world.
We practice with our magic mirror that we have always had (like Dorothy's slippers in the Wizard of Oz)… The secular critic part of ourselves holds up a mirror – "look, it sucks – in detail."
Then, with a wave of the hand, our Inner Trickster transforms the mirror into a window: "But look how beautiful it could be!" And then, with another wave of the hand, transforms the window into a door – "Let's Go!"
We practice the art of Critique and Blessing… (restoring mythological literacy. re-animating the quite specific Art of Blessing, which is comprised of tangible, sensual metaphor, a la' "When the ghost of loss stands behind you – Then may the ancestors place a cloak of guiding earth wisdom around your shoulders, that will mend your life."
Let all Natural Facts be Social Strategy Metaphors!
Slow way down to speed up…The more we slow water down, with berms and such, the faster it infiltrates the field.
Let's derive our leadership models from wolves and geese: wolfy charisma, initiating play, cool, in cahoots with geese rotational wisdom. The lead goose rotates.)
Mythic figures are metaphoric animations of intrinsic intelligence in nature. We tease forth the implications, guided by Trickster Tales in fairy tales, myth, nature, news, ancestors.
Together, guided by Natural Facts, Myth, Fairy and Folk Tale, Poetry, actual political reality, ritual magic, we will not only spiral redemptive possibilities into Group Mind,
but each of us will syncretize, customize, animate, invite to the party, our own companionable Trickster Redeemer,
that we may be agents of Cultural Renaissance…
We are moving our emotional default-setting to "woof-woof-wanna play?!?!"
So -"woof-woof-wanna play?!?!"
Merlin and Cosmo Sheldrake will be providing Trickster spirit conjuring jigs and myriad forms of whimsy, at this gathering.
CALL:
800 933 6339 ext. 232
250 935 6576 (outside North America)
EMAIL:
registration@hollyhock.ca
OR WRITE VIA SNAIL MAIL:
Hollyhock, PO Box 127, Manson's Landing, Cortes Island, B.C. Canada V0P1K0