The Only News to Trust is the Mythic News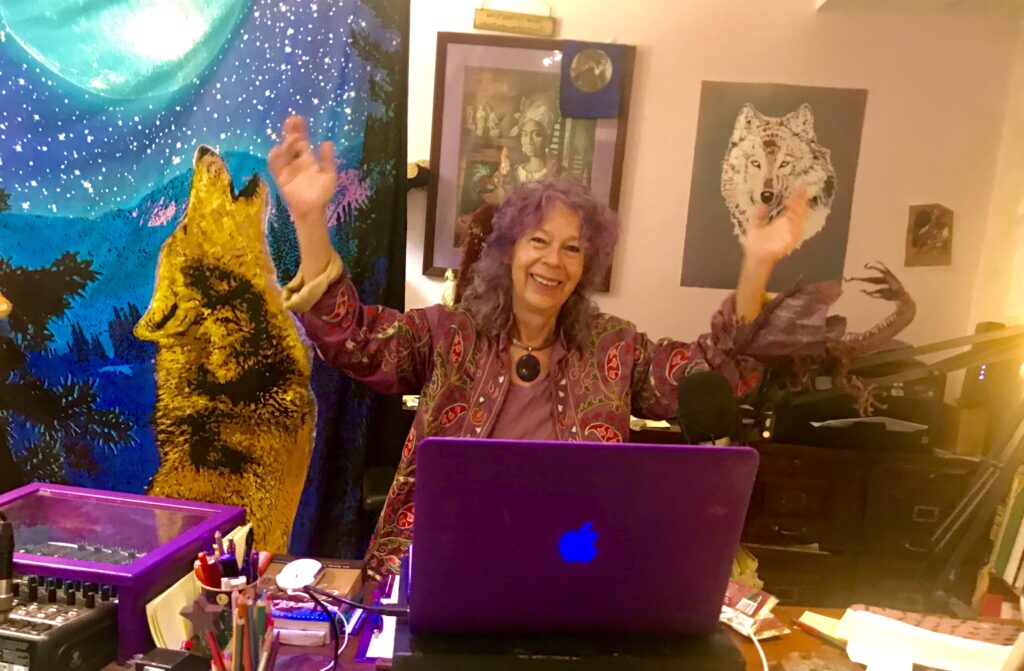 Photo of Caroline is included in current National Press Club exhibit - yip-yip to great ally photographer Diane Dompka
Coyote Network News, always delighted to liven up the Press Corps... that sane reverence assume cultural narrative lead… Intimate with the world by being able to read the guiding symbols.
Each week in a multitudinous venues, Caroline animates the astro*mytho*politico guiding meta-narrative.
How we can perceive the mythic themes at work in what passes for "news," that we may be ever more effective players on the Team of Creation, and skookum for the Wild Ride of now.
*On Monday nights Caroline convenes Trickster Training Council, an on-going gathering, into which all are welcome to jump for a season.
*Customized divination, Astrological Readings with Caroline
*Always available for language crafting (micro-personal & macro-cultural participation) - that our words, stories, metaphors be in accord with our dedicated hearts.
Next Upcoming Events
Something is always brewing backstage. Check back soon to discover what it is.
The Visionary Activist Radio Show
Caroline's Visionary Activist Radio Show is a constantly evolving experiment in Radio Magic. Her show provides the Mythological News, the Themes of Now, and has as guests anyone with a piece of the puzzle for Dreaming, Conjuring and Implementing a more lovingly ingenious world.

Listen to the most recent broadcast:
Date Posted: October 14, 2021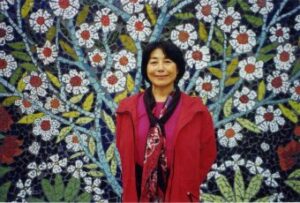 Originally Broadcast October 27, 2011 – this ever-pertinent interview with Lily Yeh is the medicine and dedication we need now in the world – Beauty Out of Darkness.
… invoking Akhilandishvara! the goddess of the power that comes from being broken!
Caroline welcomes Lily Yeh, author of "Awakening Creativity," founder of Barefoot Artists whose encouraging work in Rwanda, China, Ecuador, Haiti, Ghana, Kenya, Syria, Italy, North Philadelphia etc. is dedicated to nourishing and animating redemptive beauty from broken lives.
Listen & Download
"Beauty Out of Darkness (Archive Show)"

Support The Visionary Activist Show on Patreon for weekly Chart & Astro*Mytho Themes ($4/month) and more serious whimsy…
Audio Recordings of Past Events
Seán Pádraig O'Donoghue & Deborah Felmeth & Caroline Casey

Autumnal Equinox Council

Recorded September 22nd at 8pm eastern / 5pm pacific

Audio & Video Replay

Donation~based, autonomy is a sacrament

usually $23, any amount, upon intuitive whim – be welcome!

(variations on 5, sacred to Venus, be fun –
$5, $14, $23, $32, $50,- $122- $500 etc- hee-hee!)

Middle Eastern-Celtic-Sufi Voudoun syncretism
plant lore, astro*mytho*guiding narrative,
poetry, song, rubab (5,000 year old instrument originating in Afghanistan)

Where there be too much heat
(uninitiated Mars hyper-yang death frenzy, war on life, war on Venus)

Let's align with Venus, with Mars providing back-up Woof!

so that we may all to step into the Still Point at the center of the Story Storm

Equinox= Equal Night and Day, Mars and Venus, humans and the rest of our kin…

Summer Solstice Swoosh Council

Replay

with Caroline Casey, Amikaeyla Gaston,
and Seán Pádraig O'Donoghue

Recorded live on June 21st, 2021

(and charts and themes can be found on the replay page)

Choose your own price ~ Donations ~ Pay as you Desire


(While we encourage $23, we open up to autonomous whimsy
for you to contribute More-ha-ha! or Less, according to what feels like fun honoring…)