Date(s):
8 Nov 2019

Rahasia Manis
Jln. Raya Kendran
Banjar Bayad, Tegallalang
Pragmatic Mysticism
&
Applied Divination
Astrology as a living guide to being ever better players on the Team of Creation
View Details & Register on Heaven and Earth Workshops Website
Join
Visionary Activist Astrologer Caroline Casey
&
Quantum Astrologer Rick Levine
for
An 8-Day immersion in Beautiful Bali, Indonesia
at fabulous Rahasia Manis
November 8 -16, 2019
You are invited to a dance on the edge of time.
Caroline Casey and Rick Levine are collaborating to convene a week-long astro-mythic council in which to cultivate, animate and spiral forth our considerable gifts at this time of Dire Beauty. Rick and Caroline will teach the astrological language, brought alive with folk tale, spiritual teachings and practices, myth, metaphor, insights from modern psychology, and ancient Mystery Schools.
Astrology is one of the great guiding languages of our interior psyche and its connection, through a thin membrane, to the collective pulse. To avert disaster (against the stars), we gather to consider (with the stars.)
The natal charts of participants will be used as a point of departure for this cosmic adventure as Rick and Caroline hand the teaching baton back and forth while fully participating in the co-creation of magic.
We will animate a plethora of play to align with the cosmic choreography in preparation for the much-heralded Jupiter-Saturn-Pluto conjunction of 2020. Our council will employ experiential astrology techniques such as planetary role-playing, planetary incantation, planet walks, astro-drama, and the use of ritual.
Music and metaphor are the incarnational garb whereby power enters the world and will be proffered to create the atmosphere conducive to the desirable. The astrological intelligences will be our palette with which we paint reality.
Bali is a never-ending ritual of participatory kinship.
​The group convenes at True Halloween (November 8), the exact mid-season when the invisible is especially enthused to be invited into the three-dimensional world. A Full Moon blessing by the priest at a local temple, an excursion to a sacred waterfall, and other excursions will be included to fully engage the magic of Bali. The enchanting, mystical energy of this island paradise is the perfect backdrop for our journey from the hidden inner dimensions to the distant reaches of the stars.
​What better place for such cosmic cavorting than in Bali, the land of living animism! All who resonate are welcome — from beginners to professionals. Rick & Caroline's unique approach ensures that no beginner will be left behind.*
---
Curriculum
··
Rick: "Astrology is a two-way street."
Ascension: Spirit, Fire & Air. Buddhism, Christianity
Incarnation: Soul, Water & Earth: Dance, Sex,
The Planets Within. The Planets in Your Pocket
Activism: internal, local, community, global, cosmic
Exploring Ritual Through Music, Movement and Contemplation
​
Caroline: "The planets represent living qualities of intelligence that reside within us and connect us to the world. When we speak of them and to them, they stir within us."
We will animate our metaphoric magic back-pack and contents, including:
Our Magic Mirror: necessary critic holds up a mirror, then with wave of hand turns it into a window. ("Look how beautiful it could be!") Then, with another wave of the hand turns it into a door. ("Let's go!")
Our Metaphoric Discern-O-Meter: what is liberating and what is imprisoning.
We dedicate to being agents of cool response, in a hot reactive world.
···
For Mega-Bonus Points, on Tuesday, November 12, 2019 at 9:34 PM, we are aligning with the Full Moon at 19+ Taurus-Scorpio (the transit of Mercury, the day before). 19+ Scorpio is a great resonant degree, dissed by the medieval (men) astrologers who called it "the accursed degree of the accursed sign," Its Sabian symbol is "a woman draws back two red curtains leading to a sacred pathway." So, we love it — no priesthood — as a festival of animism. Dedicated acts of beauty invite power into the world.
​
---
Astro *Mytho* Democratic Animism
The Interweaving
The Journey begins with the Planets
​
Sun & Moon
Exercises in expression and reflection
​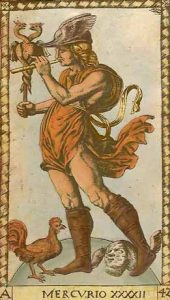 Rick: Starting Small (Mercury), Growing (Jupiter), Imagining (Neptune)
Mercury: Making Mischief – It takes two to tangle
Deconstructing Mercury Retrograde
​
Caroline:​ Mercury -The Magician, Bard within us all. Hermes, Hermia – Language as one of the great technologies of creative participation in the world.
Mercury retrograde, re-membering language craft, eloquence and poetry.
​
Rick: Venus – On beyond words
The aesthetics of perfection
​
Caroline: "The opposite of "aesthetic" is "anesthetic"
Without Beaty – we are asleep. No solution without Beauty.
​
Rick: Mars – Let's get physical
Assertion and anger
​
Caroline:​ Mars – spark of Woof that animates creation, eros, desire; in
Faery Tales – our wise animal – that knows what to do – when Mercury does not.
The fuel on which we run, literally and metaphorically…
​
Rick: Jupiter & Saturn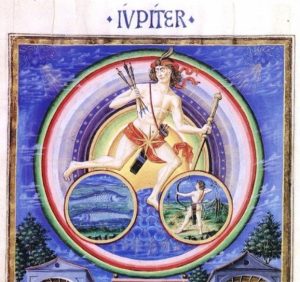 Working with the ebb and flow of the Cosmic Tides
Using the co-conspirators for co-con-spiritual mischief
Caroline: Jupiter & Saturn: Inward dedication magnetizes outward opportunity.
​
The Transpersonal Planets: Exploring the Mysteries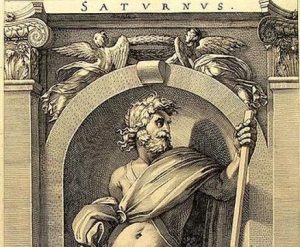 Caroline: The Outer Planets represent Nature's Evolutionary Intelligence and are the keepers
of the whole big conversation, social, and biological.
They cut in on our dance-  to spiral us into a much bigger dance –
if we are willing… (and much less graceful- if we are not)
Uranus: "Nature's Evolutionary Experimental Genius" (aka "Trickster") in Taurus
Humans returning to Democratic Animism.
​
Rick: Ego and Transcendence
Consciousness & Soma: Disincarnate Consciousness
Introduction to the Bardos: The Tibetan Book of the Dead and The Psychedelic Experience
The Astrology of Life, Death and Rebirth
Astrology and the Unconscious
Freud, Jung, and the Bardos
Astrology & Shamanism
Caroline: Calliope (9th Muse) Rising from the Cauldron of Calamity
​
Rick and Caroline:  The Magic of Metaphoric Maps (aka Charts) and why we so love this language,
that is eager for its highest calling, to guide humans back to harmonious participatory kinship.
°
Hands-on Astrology
​
There will be plenty of chart interpretation, as we truly learn by teasing astro*mythology into customised pertinence… that each participant may feel and earn a liberating clarity about their unique contribution to our council and the Council of Creation.
°
*Is this workshop for you?

​

The workshop is suitable for astrologers at all stages of study and practice. It is useful to have some basic knowledge of astrological symbols, the planets, signs, houses, and the concept of the birth chart.

If you have any questions regarding this, please feel free to contact Rick or Caroline.
---
Schedule
DAY 1 – November 8 – Friday
ARRIVAL, ORIENTATION AND DINNER
Today only dinner is included, all other meals can be ordered in our restaurant. Massages can be scheduled any time today.
5:30 pm – Dinner​
6:30 pm – Opening Ceremony, Orientation, and Introductions
Opening Talks: Guiding Themes for the week
Caroline: Welcome to Trickster Training Mystery School. The Trickster's role in liberating us from the con. Co-operators are standing by! Let's meet them!
Rick: Where we are in the big scheme of things. The astrological perspective of this unique moment in time.
DAY 2 – November 9 – Saturday
REGULAR CLASS DAY
Day of Dedicated Imagining
Saturn's Day: Honouring Saturn within and without while Saturn at 16 Capricorn is exactly sextile to the Sun and Neptune, creatively cahooting with both.
8:00 am – Breakfast
9:00 am – Noon – Class/Council
10:15 – 10:45 am – Tea, Coffee, Coconuts Break
12:30 pm – Lunch​
2:00 – 5:30 pm – Class/Council
3:30 – 3:50 pm – Tea & Coffee Break
6:00 pm – Dinner
DAY 3 – November 10 – Sunday
REGULAR CLASS DAY WITH WATERFALL EXCURSION
Day of Honouring the Sun
Swooshing away all impediments to the desirable, in conjuncts Moon in Aries at "the magic carpet degree." Fairy Tales of magic transport)
8:00 am – Breakfast
9:00 am – Noon – Class
10:15 – 10:45 am – Tea, Coffee, Coconuts Break​
12:30 pm – Lunch
2:00 – 3:30 pm – Class
The Elements, focusing on Water​
4:00 – 5:30 pm – Sebatu Waterfall Temple Visit
Water Element Experience
6:00 pm – Dinner
DAY 4 – November 11 – Monday
FULL DAY OFF FOR MARKET/BEACH EXCURSION
Day of Honouring the Moon
The Moon enters Taurus, sign of her exaltation and the most sensually intelligent of all the signs
7:30 am – Breakfast
9:00 am – Experience Bali
Leave for Klungkung Market Shopping and the rest of the day at White Sand Beach
The group may choose to stop somewhere sensually delightful for dinner on the way back from the beach.
Both lunch and dinner are not included today, but our restaurant will be open until 7:15 pm for those who choose not to go on the excursion.
DAY 5 – November 12 – Tuesday
REGULAR CLASS DAY PLUS FULL MOON ACTIVITIES
Day of Honouring Mars
Mars is in Libra, the realm of Venus, so he is artfully mannered.
7:00 – 9:30 am – Full Moon Blessings at Tirta Empul
9:30 am – Breakfast​
10:00 am – Noon – Class
12:30 pm – Lunch
2:00 – 5:30 pm – Class
3:30 – 3:50 pm – Tea & Coffee Break
6:00 pm – Dinner​
9:34 pm – Full Moon Moment
DAY 6 – November 13 – Wednesday
REGULAR CLASS DAY
Day of Honouring Mercury
Mercury retrograde is our guide as we journey to the outer planets. Language crafting and eloquence as magic.​
8:00 am – Breakfast
9:00 am – Noon – Class
10:15 – 10:45 am – Tea, Coffee, Coconuts Break
12:30 pm – Lunch
2:00 – 5:30 pm – Class
3:30 – 3:50 pm – Tea & Coffee Break
6:00 pm – Dinner
DAY 7 – November 14 – Thursday
SHORTENED CLASS DAY WITH UBUD EXCURSION/DINNER
Day of Honouring Jupiter
8:00 am – Breakfast​
9:00 am – Noon – Class
10:15 – 10:45 am – Tea, Coffee, Coconuts Break
12:30 pm – Lunch
1:30 – 3:30 pm – Class​
4:00 pm – Ubud/Dinner/Dance Performance
6:00 pm – Dinner for those who choose not to go to Ubud
Ubud photos: What to do in Ubud, Bali from Something of Freedom
DAY 8 – November 15 – Friday
REGULAR CLASS DAY
Day of Honouring Venus
Mythic guidance to bring love alive. Magnetising accomplices. Venus rises at 16 Sagittarius squaring Neptune at the Grail Legend degree.
8:00 am – Breakfast​
9:00 am – Noon – Class
10:15 – 10:45 am – Tea, Coffee, Coconuts Break
12:30 pm – Lunch
2:00 – 5:30 pm – Class​
3:30 – 3:50 pm – Tea & Coffee Break
6:00 pm – Dinner
DAY 9 – November 16 – Saturday
DEPARTURE DAY
Cycles of Recurrence: Back to Saturn
Breaking old spells; taking new vows.
8:30 am – Breakfast
9:00 – 11:00 am – Class
Tying it all together
Closing Ceremony
12:00 pm – Check-out
DEPARTURE
​
---
Accomodations
"Rahasia Manis (Sweet Secret)  is a property inspired by a great love for Bali and an appreciation for all it has to offer through its natural beauty and the inherent craftsmanship and creativity of its people. 
Located near the village of Bayad, in a cooler, quieter location than most tourist spots, it is nestled between the rice fields and jungle. There are several cottages, houses, and rooms from reclaimed teak from Java.
Overlooking the jungle there is a 10 m x 8 m, open-sided yoga/meeting room with a hardwood sprung floor. Several of the houses have beautiful spaces for smaller classes or private yoga practice and meditation. All over the property are countless little private corners for contemplation, creative pursuits, or simple relaxation.
​
There is a 10 meter saltwater pool, abundant vegetable gardens and native fruit trees in this paradise.
Since the gardens began flourishing, our restaurant has come into being,  specialising in locally grown traditional Balinese foods as well as comfort foods from other cultures."
---
Contact Information
Caroline and Rick are not involved with any of the financial or organisational aspects of the course and should be contacted regarding course material only. Please contact Heaven and Earth Workshops directly with all logistical questions. 
PRICES

$2,150 – shared occupancy

$2,650 – single occupancy

​

Payment in full by August 24th
​
 We will do our absolute best to assist with finding room-mates, but students must be prepared to pay for their own room if we cannot find anyone. Please make requests for room-mates via email.
Rooms are allocated on a 1st come basis.
​
INCLUDES
Full Tuition with Rick  & Caroline
8 Nights Accommodation, Shared or Single, at Rahasia Manis
8 Breakfasts, 5 lunches, 7 dinners
Airport Transfers  (if within 3 days of workshop dates)
Visits to Bali's sacred Temples
Shopping Excursions
Beach Trip
1 Massage
​
All activities and excursions are optional.
​
Massages can be scheduled in the early mornings, evenings or during any free times.
Additional massages may be scheduled, but we do ask that everyone wait until inclusive ones have been booked before requesting these.
All meals are served buffet-style and there will be plenty of choice for both vegetarians and carnivores.
Please let us know ahead of time if you have any medically based dietary requirements.
​
Please stay somewhat flexible around the schedule. The weather and/or our group dynamic could dictate some adjustments or changes.
​
Thank you!