This Day (Dec 23rd) – Cats Christmas, the tradition being to speak to our cats of our past Mentors, and to tell stories that will bring out the best in humans…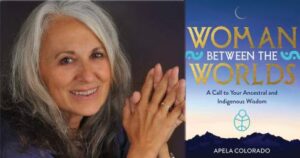 Caroline welcomes Apela Colorado…. author of "Woman Between the Worlds," that we restore the collaborative harmony betwixt all that has been falsely estranged, science and Indigenous guiding wisdom.
Apela Colorado, PhD, of Oneida-Gaul ancestry, has dedicated her life's work to bridge Western thought and Indigenous worldviews. As a Ford Fellow, Dr. Colorado studied for her doctorate at both Harvard and Brandeis Universities and received her PhD from Brandeis in Social Policy in 1982. She founded the Worldwide Indigenous Science Network (WISN) in 1989 to foster the revitalization, growth, and worldwide exchange of traditional knowledge and to safeguard the lives and work of the world's endangered traditional culture practitioners. In 1997, Dr. Colorado was one of twelve women chosen from 52 countries by the State of the World Forum to be honored for her role as a woman leader.
In addition to WISN's many projects—which span the globe and range from research on migration stories of indigenous peoples in Central Asia to big cat conservation—Dr. Colorado founded the Indigenous Science and Peace Studies, UN University of Peace, the first fully accredited advanced degree program taught from an Indigenous perspective that consciously integrates western knowledge.
Listen & Download
"Cats Christmas ° Between the Worlds"

Support The Visionary Activist Show on Patreon for weekly Chart & Astro*Mytho Themes ($4/month) and more serious whimsy…