Yo team –
If you have a newsletter list, might you have experimental willingness to spiral forth invitation to my free call, that that we may convene the team of Sane Reverent Beings, at this Time of Dire Beauty:

to invite Citizen Trickster – Bodhisatva Coyote to bound onto the world stage…
Saturday January 14th, 2017
10 AM PST / 1 PM EST
Before there were humans- there was Trickster – the originating liberating spark of creation – that sets the whole shebang going
Ignition. Lightning.
Coyote hurls lightning at the closed circle, liberating it into a spiral. So too can we.
Nature's evolutionary experimental Genius, that we call Trickster, assumes many forms throughout time:
Coyote, Raven, Br'er Rabbit, Scheherazade, High John the Conquer, seeds that sprout after cataclysm,
defiant joy in hard times,
and always the Trickster Redeemer is adept at composting tyranny into nutrient for democratic animism….
(and so on….)
who together with her team, will be guiding you from here.

CC: Info@Coyotenetworknews.com and Eryn@coyotenetworknews.com 

Subject: Powerful Magic for Dangerous Time – Affiliate 

They would like the following information from you for tracking (and rewarding!)

1) Your email list size

2) The date you are going to send your email within the 1/6– 1/13 promotional window

(they will be providing you with linked copy)

3) If you are not yet a Referral Partner for Shift Network* please enroll using this link: 

http://partners.theshiftnetwork.com/join/

 * (If you are already a Shift Affiliate) Please enroll using the email address associated with your referral partner account.
All that needs doing is spiraling forth an invitation to the free call to your newsletter (after emailing MaryKay Morgan for your customized links and enrolling in the program)
(and you can customize the copy)
And, for any of your team who enroll for the 7 week course you'll receive
~35% of class admission per person…
All Positive Woof and Yip team!
Caroline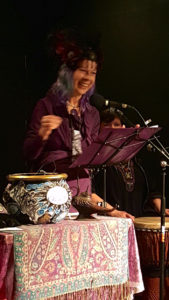 Questions or Kerfuffles please email >Eryn<@>CoyoteNetworkNews.com<  or >marykay<@>theshiftnetwork.com<